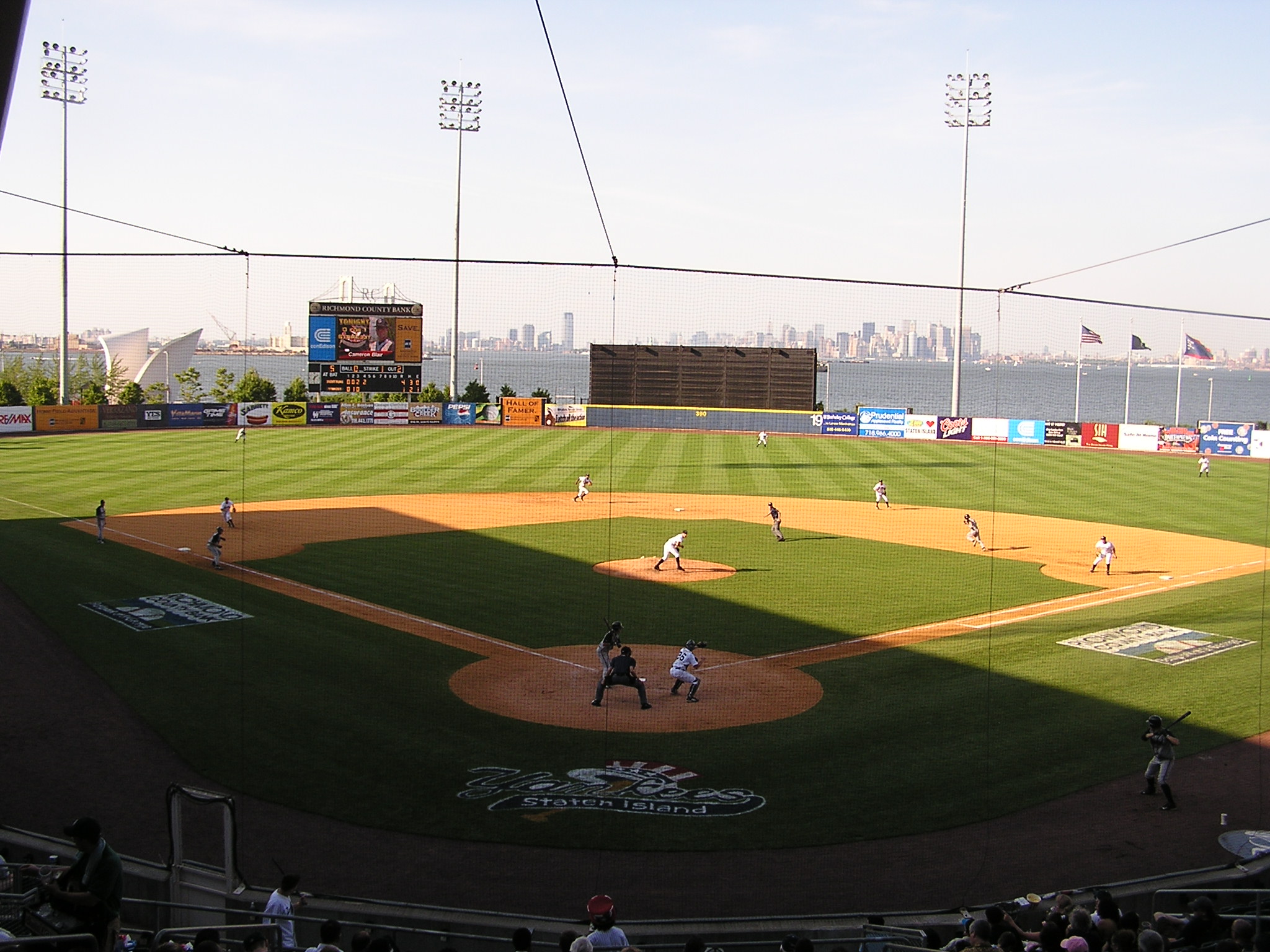 TEAM::: STATEN ISLAND YANKEES
LOCATION ::: STATEN ISLAND, NEW YORK
MY FIRST GAME ::: JULY 21, 2002
OPPONENT ::: MAHONING VALLEY SCRAPPERS
LEVEL ::: NEW YORK - PENN LEAGUE A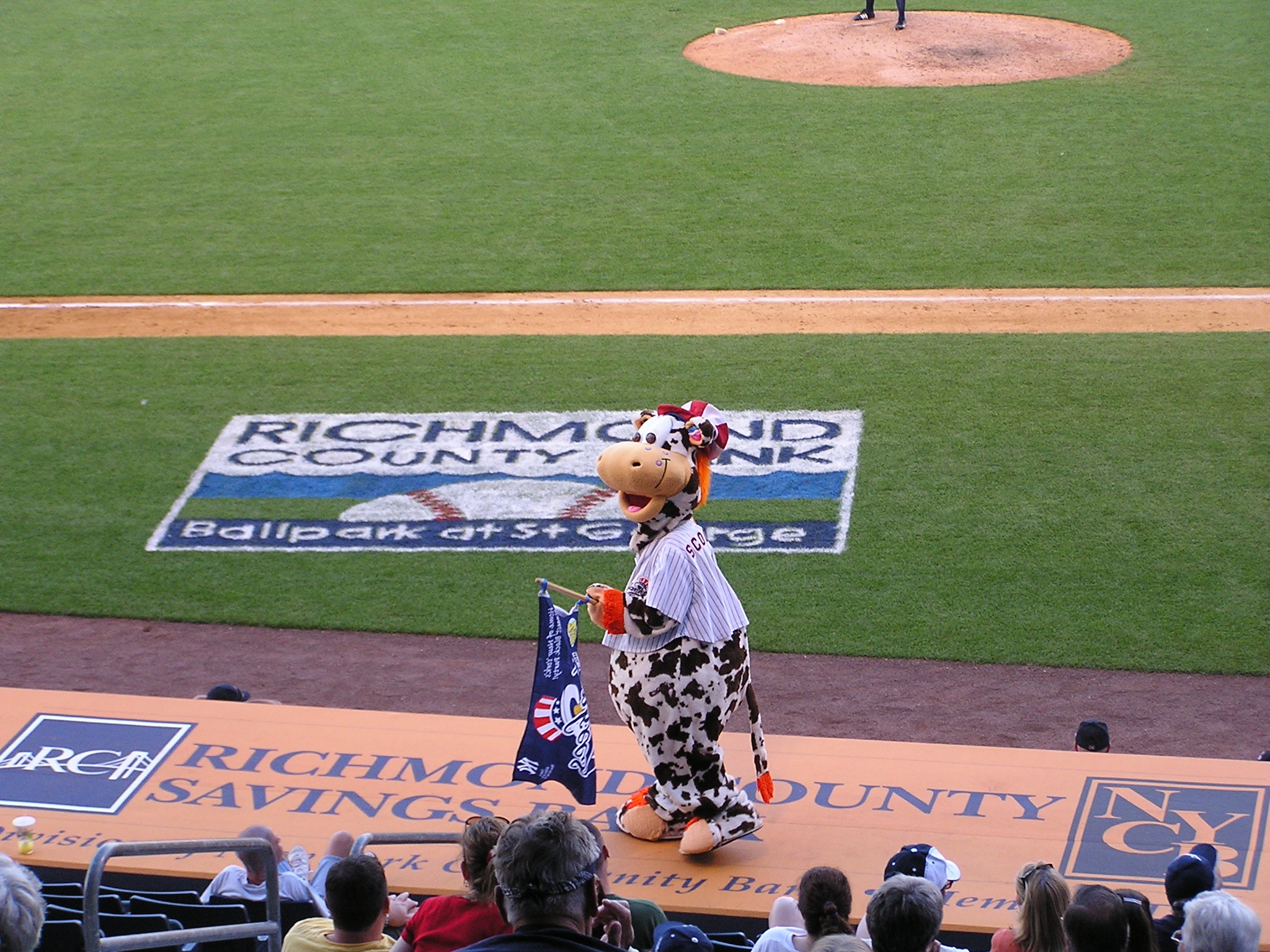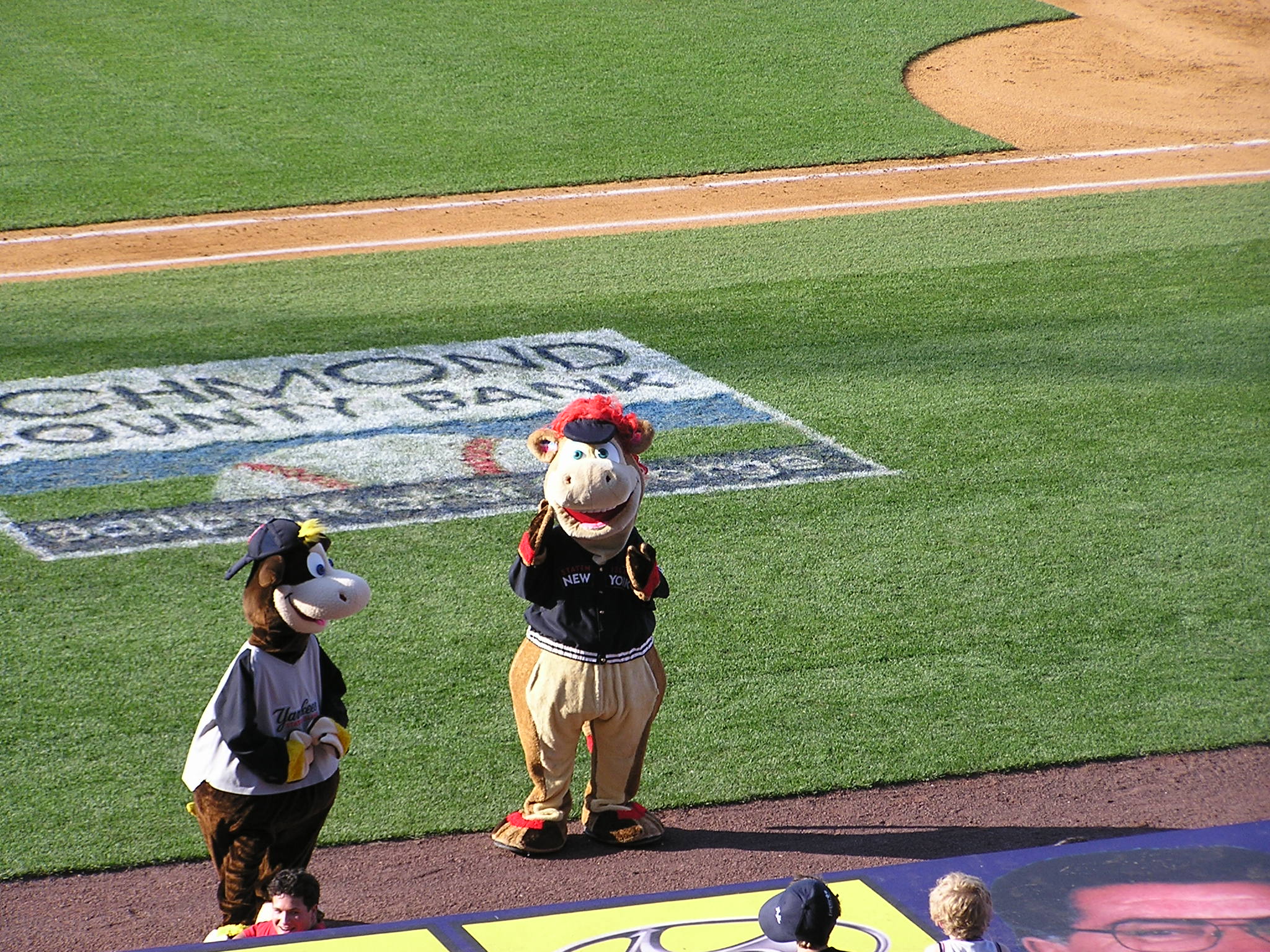 RATINGS
BALLFIELD ::: A
SCOREBOARD ::: A+
FOOD ::: A
FACILITIES ::: B+
MASCOTS ::: A
MY TAKE ON THE PARK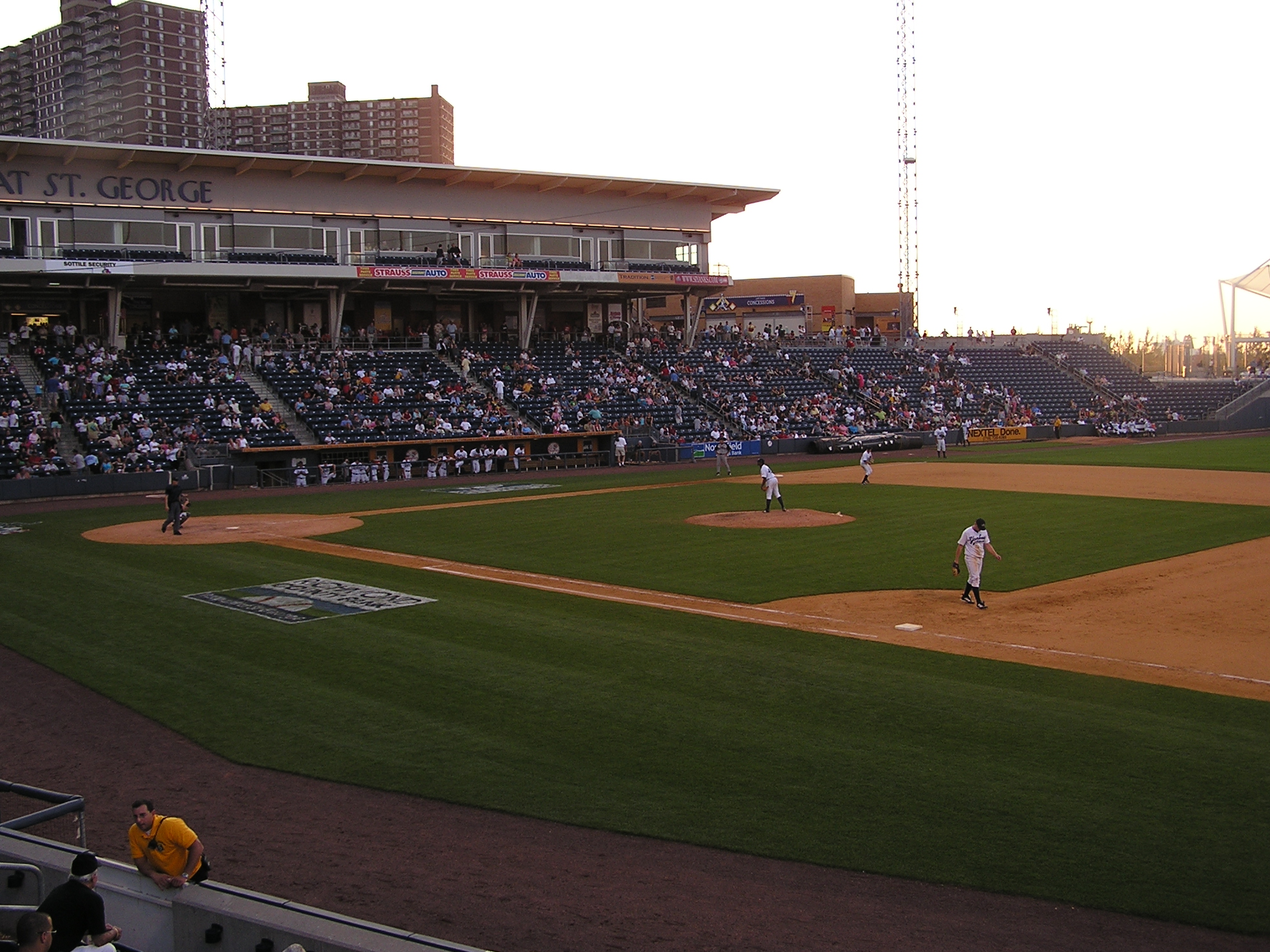 IT'S VERY DIFFICULT TO TALK ABOUT THIS PARK AND JUST TALK ABOUT THE STADIUM. THERE IS JUST SO MUCH GOING ON AROUND THE PLACE THAT THE STADIUM CAN ALMOST TAKE A BACK SEAT... IT SHOULDN'T. THE BALLPARK @ ST. GEORGE IS A COMFORTABLE PLACE TO SEE A GAME THAT ALSO JUST HAPPENS TO HAVE ONE OF THE BEST VIEWS AROUND.

AS FOR THE PARK, THE FIELD IS IN PERFECT CONDITION, SOMETHING THAT SEEMS TO BE ALMOST STANDARD IN NEW YORK CITY BALLPARKS. THE FIELD IS SURROUNDED BY WHITE CONCRETE STANDS WITH COMFORTABLE NAVY BLUE SEATS, WHICH GIVE THE PLACE A REAL GOOD LOOK. SURPRISINGLY, THERE SEEMED TO BE QUITE A FEW EMPTY SEATS HERE, SOMETHING THAT DOESN'T HAPPEN AT THE OTHER NYC MINOR LEAGUE PARK IN BROOKLYN.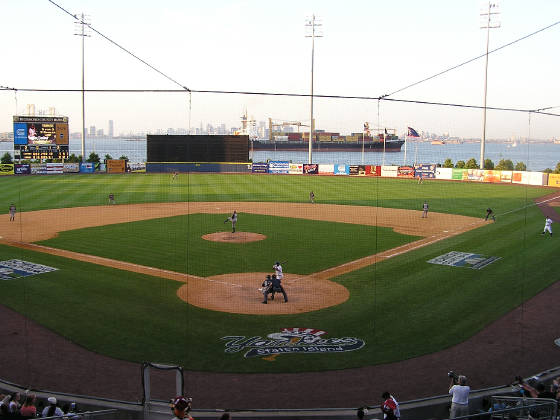 THE REAL BEAUTY OF THIS PARK IS THE LOCATION. IF YOU WANT TO SEE HIGHWAY TRAFFIC,SEE A GAME IN WILMINGTON WHERE I-95 BUZZES BY DURING THE GAME. IF YOU ARE LOOKING FOR TRAINS WELL THERE IS BINGHAMTON, SYRACUSE OR ONEONTA. HERE IN STATEN ISLAND YOU HAVE THE SHIPPING LANES AND WELL, SITTING AT A GAME AND SEEING A HUGE BARGE WITH FOREIGN WRITING ON ITS SIDE PASSING THE LEFT FIELD WALL IS REAL COOL TO ME.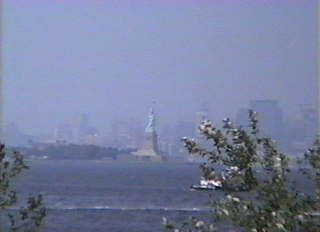 OH, AND JUST BEYOND THE LEFT FIELD WALL, WHEN THE BARGES AREN'T IN THE WAY SITS THE STATUE OF LIBERTY.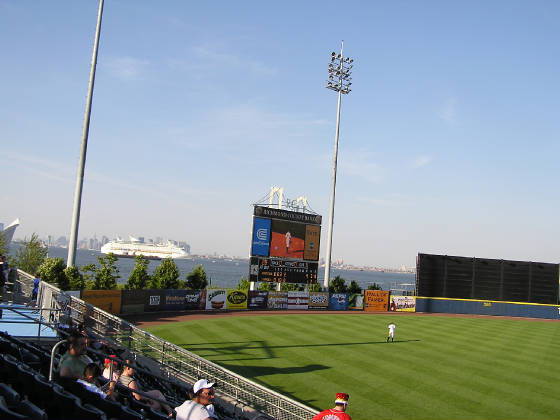 A TRIP HERE IS A PERFECT IDEA ON A HOT SUMMER DAY, BEING ON THE WATER YOU ARE ALMOST ASSURED OF A STRONG BREEZE DURING THE WHOLE GAME. PLUS, NONE OF THE VIEWS CAN BE FULLY APPRECIATED AT NIGHT EXCEPT FOR THE CITY SKYLINE WHICH REALLY IS KIND OF FAR AWAY. FOR A NIGHT GAME, BRING A JACKET, THE CONDITIONS HERE ARE SIMILAR TO WRIGLEY IN THAT WHEN THE SUN GOES DOWN THE COATS COME OUT.

FOR SHORT A BALL, (HECK FOR MINOR LEAGUE BALL) THIS IS ONE OF THE NICEST PARKS OUT THERE. THE SEATS ARE AVAILABLE, EXCEPT WHEN BROOKLYN COMES TO TOWN, THE FOOD IS GOOD AND THE MASCOT, SCOOTER THE HOLY COW IS ENTERTAINING. THERE IS ALSO THE VIEW, OH YES THE VIEW!!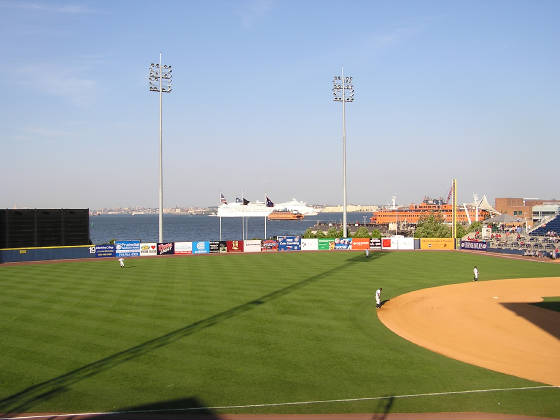 THE LINE UPS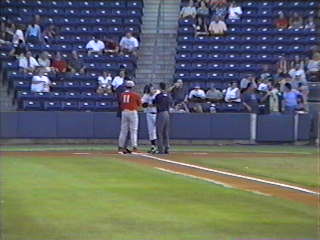 MAHONING VALLEY SCRAPPERS MGR :::
23 CHRIS BANDO

STATEN ISLAND YANKEES MANAGER :::
39 DEREK SHELTON
MAHONING VALLEY SCRAPPERS
8 Ben Francisco cf
4 Shaun Larkin 2b
6 Pat Osborn 3b
16 Brian Wright rf
17 David Wallace c
44 Bill Peavey 1b
10 Jonathan Van Every lf
15 Andrew Baxter dh
45 Miguel Peguero ss
7 Blake Allen p / LP
STATEN ISLAND YANKEES
27 Ferdin Tejada ss
12 Gabe Lopez 2b
21 Matt Carson rf
31 Tommy Rojas c
28 Scott McClanahan cf
53 Williams Vasquez 3b
26 Michael Meihls 1b
14 Jon Sheaffer lf
45 Charlie Isaacson p / WP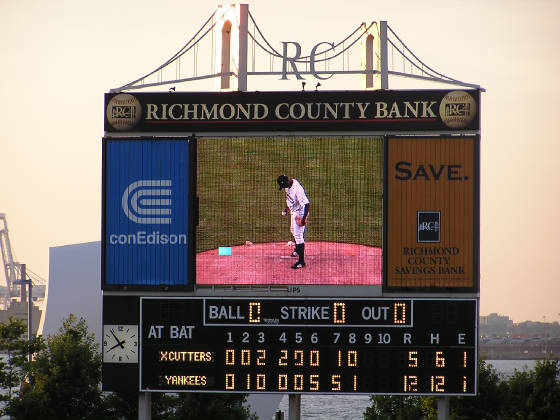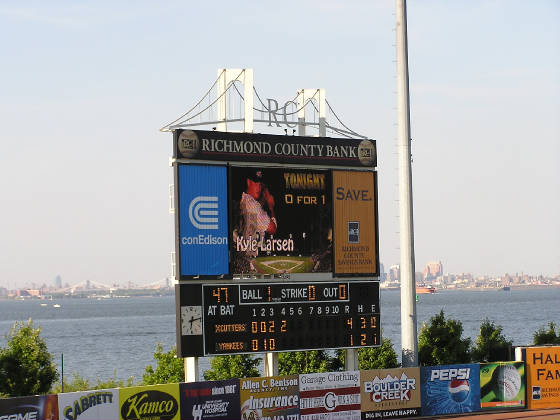 SCRAPPERS 000 000 000 0 7 1
SI YANKEES 030 000 00X 3 8 0

TIME ::: 2:20
WEATHER ::: 82 HAZY COOL BREEZE TO LEFT
ATTENDANCE :: 3,653
SEND ME AN E-MAIL
LINKS
The Official web site of the Staten Island Yankees
Staten Island Ferry Information
Staten Island weather from WEATHER.com

© 2000-2012 UNCLE BOB'S BALLPARKS
I AM IN NO WAY AFFILIATED WITH ANY OF THE TEAMS ON THIS PAGE ... THIS PAGE IS MEANT FOR INFORMATION PURPOSES ONLY.